Unifi U6 Long Range Ubiquiti Access Point
High-performance, indoor/outdoor WiFi 6 access point with extended signal range.
Features:
5 GHz WiFi 6 band (4×4), 2.4 GHz WiFi 4 band (4×4)
3.0 Gbps aggregate throughput rate
Horizontal, downward-tilted antenna pattern to widen coverage area
(1) GbE RJ45 port (PoE In)
Powered with PoE+
Categories: Networking, Ubiquiti
Tags: access point, u6-lite, u6-pro, ubiquiti Access point, Ubiquiti Networks (UBNT), ubiquiti u6-lr datasheet, Ubiquiti UniFi, Ubiquiti UniFi Access Points, Ubiquiti WiFi 6, unifi 6 long range, unifi 6 long-range distance, unifi 6 long-range review, UniFi Indoor Access Points, unifi long range, uniFi WiFi 6 (802.11ax), WiFi 6, WiFi 6 Access Points
Description
Ubiquiti UniFi WiFi 6 Long-Range Access Point (U6-LR).
Unifi U6 Long Range (U6-LR)
The Unifi U6 Long Range is a powerful wireless Access Point leveraging advanced WiFi 6 technology to provide powerful wireless coverage to enterprise environments.
Ubiquiti UniFi U6-LR Key Features
1.3 GHz dual-core processor (now upgraded to support full-duplex 1 Gbps TCP/IP performance)
Four-stream high-efficiency WiFi 6 technology
5 GHz band 4×4 MU-MIMO and OFDMA with radio rate of 2.4 Gbps
2.4 GHz band 4×4 MIMO with radio rate of 600 Mbps
Powered with 802.3at PoE
Managed by UniFi Network Controller version: 6.0.34 or higher
The UniFi U6-LR delivers an aggregate radio rate of up to 3.0 Gbps with 5 GHz (4×4 MU-MIMO and OFDMA) and 2.4 GHz 4×4 MIMO radios. The U6-LR seamlessly blends into any environment, and is capable of being mounted in indoor and semi-outdoor environments (IP54 rated).
Best-In-Class WiFi Coverage & Performance
With its Wi-Fi 6 capability, the Unifi U6 Long Range will strengthen your enterprise environment with the widest, most reliable coverage yet.
The access point can reach an aggregate throughput rate up to 3 Gbps with its 5 GHz (4×4 MU-MIMO and OFDMA) and 2.4 GHz (4×4 MIMO) bands. It also has a sideways, down-tilted antenna pattern to expand its coverage area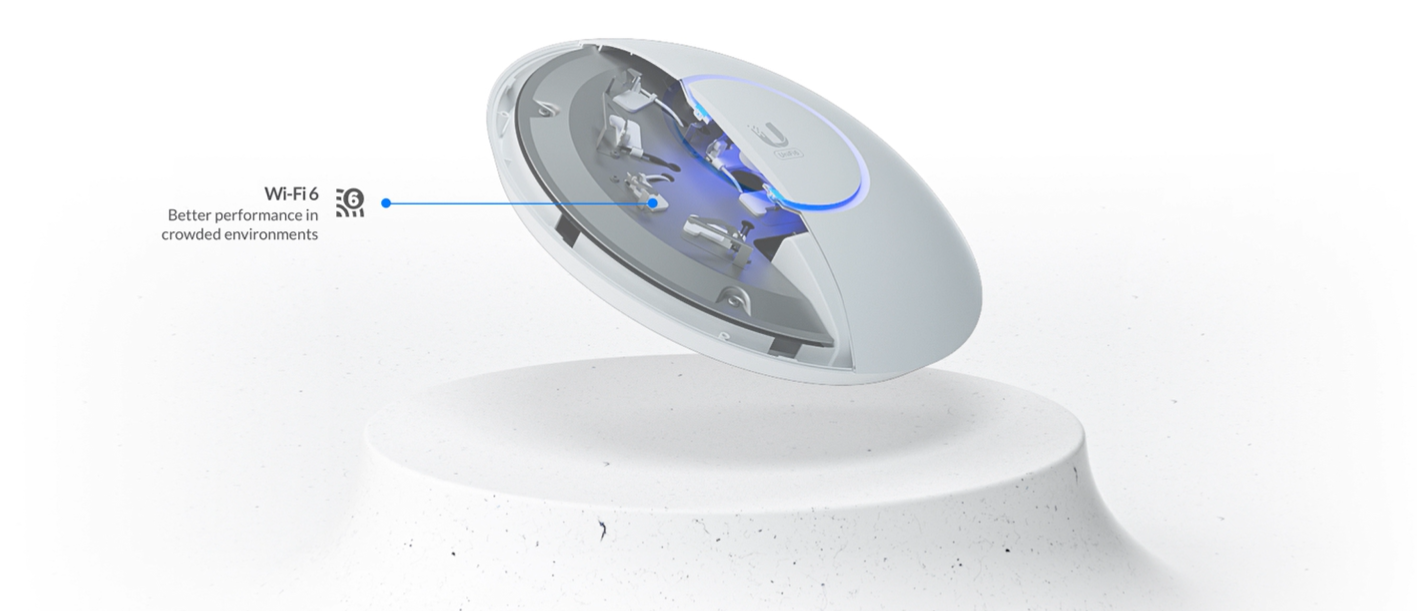 Seamlessly Connect to More Devices
The U6 LR simplifies the process of bringing WiFi 6 to enterprise networks that support a large number of clients. It can be set up in minutes and fully managed with the UniFi Network web application or mobile app, with the capability to support over 300 distinct client connections.
Ubiquiti Unifi U6 Long Range – Technical Specifications
Mechanical
Dimensions: Ø220 x 48 mm (Ø8.66 x 1.89″)
Weight:
– Without Mount: 800 g (1.76 lb)
– With Mount: 930 g (2.05 lb)
Enclosure Material: Plastic
Mounting Material: IP54
Hardware
Processor Specs: Dual-Core® Cortex® A53 at 1.35 GHz
Memory Information: 512 MB
Management Interface: Ethernet In-Band
Networking Interface: (1) Gbps Ethernet RJ45
Buttons: Factory Reset
LEDs: RGB
Power Method: 802.3af PoE, Passive PoE (48V)
Power Supply: 802.3af PoE; 48V, 0.32A PoE Adapter (Not Included)
Supported Voltage Range: 44 to 57VDC
Max. Power Consumption: 16.5W.
Other available models Includes: Unifi U6 Lite, U6 Pro
Unifi U6 Long range Datasheet
Related products